Winners for the 1st 7th Annual Grilled Cheese Invitational Announced!
Saturday, April 25th, 2009 Los Angeles State Historic Park (AKA: "The Cornfield") Downtown Los Angeles 12pm to 6pm
The Invitational lands in downtown Los Angeles, CA on April 25, 2009!
Doors open at 12:00pm
Competition from 1:00pm – 5:00pm
Admission Fee: $5
Competition Fee: $10
The 1st 2nd Austin regional served up plenty of hot victory to fans of the Moose!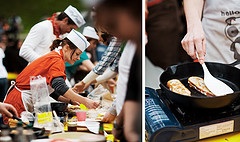 San Francisco got its belly full of cheesey goodness!