UPDATE – (3/7/2011) The 2nd 8th Annual Grilled Cheese Invitational will take place on April 23, 2011 at Los Angeles Center Studios in downtown Los Angeles, CA. We are wrapping up the programing on the new registration process and hope to open registration for competitors later today. Once the registration system is ready, we will […]
Thanks for your interest in volunteering.  We are actually full up for volunteers this year.
    Winners for the 1st 7th Annual Grilled Cheese Invitational Announced!
Saturday, April 25th, 2009 Los Angeles State Historic Park (AKA: "The Cornfield") Downtown Los Angeles 12pm to 6pm
The Invitational lands in downtown Los Angeles, CA on April 25, 2009!
Doors open at 12:00pm
Competition from 1:00pm – 5:00pm
Admission Fee: $5
Competition Fee: $10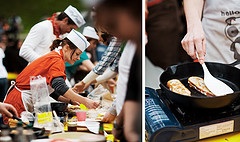 San Francisco got its belly full of cheesey goodness!
The 1st 6th Annual Grilled Cheese Invitational was held in Griffith Park on April 19, 2008 in Los Angeles, America.
The 4th 2nd Annual Grilled Cheese Invitational took place on February 24, 2007  in downtown Los Angeles, America.
The 2nd Annual was so nice, we did it thrice!