2008 – 1st 6th Annual Grilled Cheese Invitational – Results!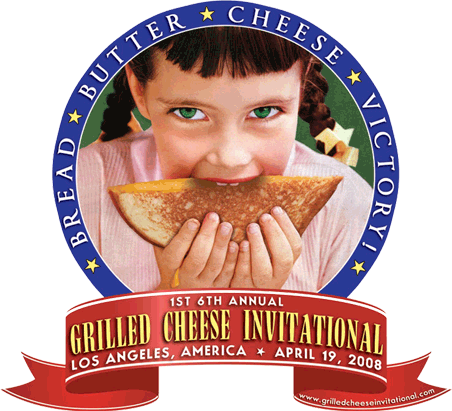 The 1st 6th Annual Grilled Cheese Invitational was held in Griffith Park on April 19, 2008 in Los Angeles, America.  By far the largest Grilled Cheese Invitational to date, the 1st 6th Annual saw 126 competitors compete for a crowd of 1,500.
Thanks to the good folks at Kraft Singles™, we had more cheese there than ever before with literally thousands of hot, fresh and free sammiches given out to the hungry masses.  Competition for this event was by far our most exciting ever, with sammich runners getting the awaiting judges riled up in an unbridled fury for the cheese.
Some photos of the event:
Official Results for the 1st 6th Annual Grilled Cheese Invitational
ALL RESULTS ARE TABULATED USING A TOP-SECRET FORMULA THAT WEIGHS AND MEASURES EACH INDIVIDUAL CATEGORY AND THEN COMBIES THEM TO DELIVER AN OVERAL SCORE. WE DON'T HAVE THE TIME TO GET INTO IT HERE, BUT TRUST US, IT IS FAIRLY COMPLEX AND TERRIBLY CONFUSING.
| | | | |
| --- | --- | --- | --- |
| | The Missionary Sammich | 17 Entries | |
| | | Cook | Overall Sammich Score |
| | | Cecilia Fabulich | 27.43 |
| | Santo Caliente de Queso "Holy Grilled Cheese (#94) | Jed Donahue | 27.40 |
| | | Doc | 27.36 |
| | Another Dimension of Cheese (#94) | David Spancer | 25.55 |
| | | Ben Koon | 25.50 |
| | | Josh Hodas | 25.35 |
| | | Schwartz | 25.06 |
| | | Scott Beckstead | 23.75 |
| | The Ceiling Needs Painting (#183) | Greg & Stacey Alexander | 23.72 |
| | | Ron Bennett | 23.58 |
| | | | |
| | The Spoons Sammich | 21 Entries | |
| | | Cook | Overall Sammich Score |
| | | Josh Hodas | 29.94 |
| | | Holly Larson | 29.78 |
| | The People Who Don't Hate Fun Sammich (#7) – Rustic herb bread, herb and garlic soft cheese, extra sharp cheddar, mozzarella…grilled up in garlic infused canola oil. | Dawn Sebock | 29.18 |
| | Phineas Cuddle Bread (#150) | George Dear | 28.06 |
| | | Kim Wingard | 27.18 |
| | | Jane Eric | 26.93 |
| | | Ed Bechtel | 26.87 |
| | | Susan Yoon | 26.75 |
| | | Allison Chock | 25.71 |
| | | Kristen Carter | 25.39 |
| | | | |
| | The Kama Sutra Sammich | 38 Entries | |
| | | Cook | Overall Sammich Score |
| | Short Rib and Tallegio Grilled Cheese w/Apricot Caper Puree (#66) | Eric Greenspan | 32.94 |
| | Braised Deliciousness (#159) | Hobson | 31.44 |
| | | Patrick Grover | 31.33 |
| | Gourmet Grilled Cheese Dipper (#12) | Steve Cooper | 30.19 |
| | Timmy Dragonslayer (#187) | Katie Rogers | 29.50 |
| | | Susan Yoon | 29.24 |
| | | Hot Knivez | 29.12 |
| | | Robert Cohen | 28.68 |
| | | Ben Koon | 28.47 |
| | | Ron Bennett | 28.33 |
| | | | |
| | The Honey Pot Sammich | 31 Entries | |
| | | Cook | Overall Sammich Score |
| | | Nathan Ho & Daniel Fresquez | 33.29 |
| | | Hot Knivez | 32.41 |
| | | Pixie & Caution | 32.33 |
| | A Mid Summer Night's Cheese (#5) | Deb Wallace | 30.83 |
| | | George Dear | 30.74 |
| | | Brian Beecher and Crystal Carlsberg | 30.67 |
| | Moons Over My Sammie (#30) | Ellen | 30.29 |
| | | Amy Wilde | 30.12 |
| | | Marina | 29.73 |
| | | Magda McSparran | 29.61 |
| | | | |
| | | | |
| | | Cook | Spaz Score |
| | | Brian Beecher and Crystal Carlsberg | 14.11 |
| | | Barrie Lynn – The Cheese Impresario | 12.58 |
| | | | |
| | | | |
| | Sammich Name | Cook | |
| Missionary Sammich | Like Momma (#20 | Scott Beckstead | |
| Spoons Sammich | Phineas Cuddle Bread (#150) | George Dear | |
| Kama Sutra Sammich | The Hot Knife (58) | Hot Knivez | |
| Honey Pot Sammich | Unnamed Sammich (#33) | Katherine Scherbel & Laura Wiles | |
| | | | |
Verified by:

(not really)