Archive for Regionals
RULES TO THE AUSTIN REGIONAL GRILLED CHEESE INVITATIONAL (revised 02/10/2011) PREFACE The following explains the official rules and regulations for competing in the Austin, TX Regional Grilled Cheese Invitational (GCI) Competition. The GCI retains the right to amend, modify, or terminate the rules at any time and at our sole discretion. It is the responsibility […]
The 3rd (usually) Annual Austin Regional Grilled Cheese Invitational! March 26, 2011 Austin, TX MINIMUM DONATION $5 Location: Austin Moose Lodge 2103 E. M. Franklin Austin, TX http://tinyurl.com/Moo… DOORS OPEN 1PM Grilling will begin at 2:10 (This means the first competition sandwiches will come off the line around 2:45) $5 Admission. You must sign […]
The Invitational lands in downtown Los Angeles, CA on April 25, 2009!
Doors open at 12:00pm
Competition from 1:00pm – 5:00pm
Admission Fee: $5
Competition Fee: $10
The 1st 2nd Austin regional served up plenty of hot victory to fans of the Moose!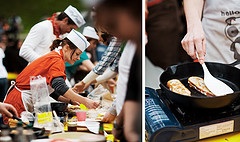 San Francisco got its belly full of cheesey goodness!
The 1st Annual Austin Regional took place on March 24, 2008.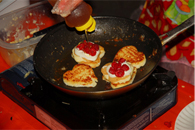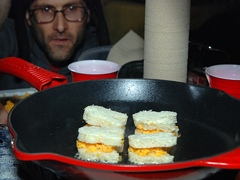 The 1st Annual NorCal Regional Grilled took place on October 27, 2007 at Eli's Mile High Club in Oakland, CA