2006 – The 3rd 2nd Annual Grilled Cheese Invitational!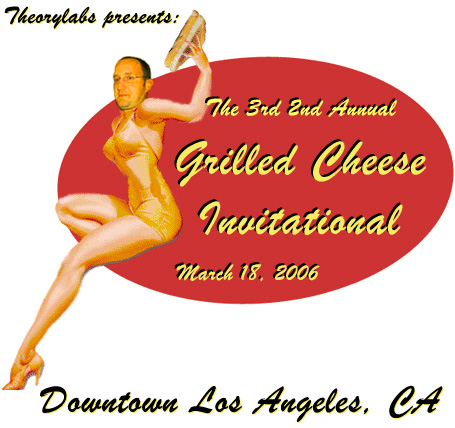 The 3rd 2nd Annual Grilled Cheese Invitational saw the event move to a newer, larger, more undisclosed location in downtown Los Angeles, America.  Due to several arguments with our draconian lords of the land, we were forced to cease holding events at our previous location.
The 3rd 2nd Annual GCI trophies, awaiting transport to the new digs.
So the GCI packed up all of its grills and spatulas and drove about 3000 feet down the street and set up the cheese at our new, smashing digs.
The results?  Victorious!  As with the previous GCI, the attendance and number of competitors doubled as word of mouth regarding this event spread throughout the Los Angeles underground.  We even made friends with several on-duty LA DWP utility workers and employees of Union Pacific.
A LA DWP truck tips over on the main Union Pacific tracks. We ply the workers with extra grilled cheese.
Grilled cheese truly knows no boundaries.
OFFICIAL RESULTS OF THE 3RD 2ND ANNUAL GRILLED CHEESE INVITATIONAL
Missionary Category

1st

Helena

No name for Sammich

2nd

David Spancer

The Perfect Cube

3rd

Hot Knives (Evan & Alex)

No name for Sammich

Kama Sutra Category

1st

Heidi Gibson

No name for Sammich

2nd

Zarka & Jane

Fig Quesadilla

3rd

Hot Knives (Evan & Alex)

No name for Sammich

1st

Daleydale & Magaliscious

Dale & Magpie's Sweet Surprise

2nd

Team We Aim To Cheese

Requiem for a Cream . . . Cheese

3rd

Gallagher Lawson

No name for Sammich

The Spaz Awards

1st

Vanessa!

Son of Sammich

2nd

Davis

Sangria Maria