The 1st 8th Annual Grilled Cheese Invitational
4/24/2010
12:00pm – 6:00pm
Los Angeles Center Studios
1201 West Fifth Street
Los Angeles, CA – America
$10  tix available now!    –    $15  @ event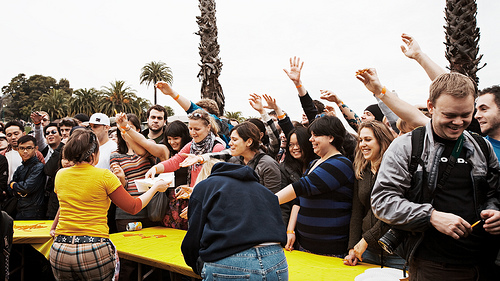 MOUNTAINS OF TILLAMOOK® GRILLED CHEESE SAMPLES!
SPECIAL APPEARANCE OF THE LOAF LOVE TOUR!
AMATEUR AND PROFESSIONAL GRILLING COMPETITONS!
MULTIPLE FOOD VENDORS WITH SAMPLES FOR SALE!
NEW AND ADDITIONAL SPONSORS AND FREE SAMPLES!
BEER GARDEN!
TROPHIES!
POETRY!
MUSIC!
PRIZES!
YELLING!
KITTENS!*
AWESOME!
(LOS ANGELES, CA) The organizers for the 1st 8th Annual National Grilled Cheese Invitational have opened their electronic floodgates and are now accepting registration for just about everything you could imagine at this year's Grilled Cheese Invitational.
"The 1st 8th Annual Grilled Cheese Invitational will surely be the best thing to happen to mankind, ever!  Well maybe second to that whole 'landing on the moon' thing, but as far as mankind's topmost achievements, it's totally way up there!" says Tim Walker, the event's founder and organizer.  "We have listened to the feedback from last year, spent a lot of time redesigning the event and have turned this event into something for everyone with both a grilling competition AND a grilled cheese festival with multiple vendors on hand to sell samples to the hungry masses!"
For 2010, the GCI has partnered with Tillamook Cheese as an exclusive cheese sponsor!  Tillamook will be on hand offering samples of their medium and sharp cheddar cheese as well as serving up thousands of samples of Grilled Cheese.  How awesome is that?  Have you seen their Loaf Love Tour mini busses yet?  They are currently touring around Southern California bringing tasty cheese to the people.  If not, no worries, they will be at the event and you'll be able to see them there!
TICKETS ON SALE NOW!  GET 'EM HERE!
The event will be also be teaming up with the Grilled Cheese Truck as a mobile box office!  Tickets will be available through the Grilled Cheese Truck soon!
Do not hesitate to buy your tickets in advance as the EVENT WILL SELL OUT and you'll be left with no cheese.
My god, just look at all this fun:
-NEW FOR 2010 -
ONLINE, ADVANCE TICKET SALES
To avoid the huge long lines at the gate last year, we will be selling our tickets online via beticketing.com.  Using their print at home option and scanners at the gate, we will be able to jet people though the gates and into the loving arms of some great grilled cheese and entertainment.
TICKETS ON SALE NOW!  GET 'EM HERE!
SEPARATE PROFESSIONAL AND AMATEUR GRILLING CONTESTS!
The time has come to allow both amateurs and professional chefs to compete side by side, but get scored in separate divisions.  We will still determine who is the overall Grilled Cheese Champion, but this will allow for more trophies and for a more fair competition overall.
ONLINE, PRE-EVENT JUDGING SOCIETY REGISTRATION!
All those looking to judge the grilling competitions MUST register with as a member of the Judging Society and must present their Membership card in order to enter the competition arena at the Grilled Cheese Invitational.  We will be limiting the number of judges at the event and there will be no on-site judging registration.  The on-site judging registration is what led to the massive lines at the event last year.  Now, we harness the power of teh interwebs!
JUDGING REGISTRATION HAS CLOSED
PEOPLE'S CHOICE AWARDS
Even though we are limiting the judging of the grilling competitions, there is still PLENTY of cheese to be judged…and just a day to do it.  With the addition of vendors selling Grilled Cheese samples, all event attendees will be handed a ballot and will be able to vote on the best grilled cheese offered up from our vendors.
CHEESE CALLING COMPETITION!
Think you've got a good enough set of lungs to call the cheese back to the barn, here's your chance to prove it.  The 1st 8th Annual Grilled Cheese Invitational will bring back the sacred art of cheese yelling.  For centuries the idea of competitive yelling was limited only to the Hog variety, but no more!  Come April 24, wheels of cheese throughout the land will hear their names called and know that someone out there loved them.  There will be prizes for the best cheese calls.  And earplugs for the rest of us.
To enter the Cheese Calling Competition, CLICK HERE!
CHEESY COSTUME CONTEST!
The GCI has always inspired people to wear their best, most weird outfits out in public for all the world to see.  Now, it will reward you for it!  Sign up for our costume contest and get your chance at some prizes!  Seriously!
To enter the Cheesy Costume Contest, CLICK HERE!
Want to volunteer at the event!  AWESOME!
The Grilled Cheese Invitational needs an army of volunteers to bring the cheesy glory to the people.  Why not give us a hand?  You get to be a part of a truly awesome event and have a great time as well. Plus you get a very special feeling in your heart knowing that you were a part of making someone's dream of becoming a grilled cheese champion a reality!
More details will be released in the coming days, so keep checking back for more info.
For up to the minute info on the Grilled Cheese Invitational, follow us on twitter @grilldcheez
For media or sponsorship related inquiries, please contact email us!
If you are a chef or restaurant and you'd like to participate as a vendor for this year's GCI, email us!
For all other questions regarding the Grilled Cheese Invitational, contact us at hotcheeseygoodness@grilledcheeseinvitational.com.
* Kittens may not be available day of the event.