Archive for Uncategorized
2013 GCI VIP/Media List Registration Form
It was a beautiful day in downtown Los Angeles filled with cheese, victory and glory! Over 200 competitors fought side by side in our grilling arena which extended for nearly 300 feet.  The competition was fierce and the cheese was mighty.
Think you've got what it takes to be a Grilled Cheese Champion™? Well then, put up your dukes! First, READ THE RULES! Then, Click here to register to compete!   REGISTRATION NOW OPEN! ALL COMPETITORS MUST REGISTER BY 4/16/2011.
Even YOU can be a judge at the GCI! Judging the Official Competition In order to judge the Grilled Cheese Invitational competition, you must register as an official GCI judge and purchase a judging pass. Judging passes are limited and will sell out so don't hesitate, register today! Once you purchase a pass, that's it! […]

As with all noble mortal pursuits, a champion Grilled Cheese must first begin with Love.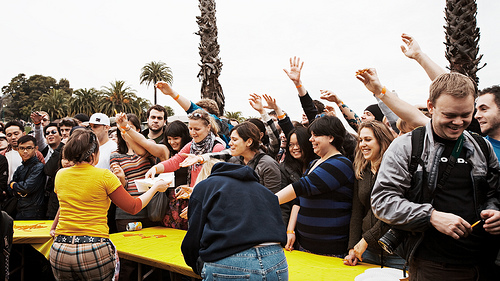 Didn't register in time, don't worry! There's still plenty to do and see!

Good lord, was that a process! You're done! See you at the Invitational and may the best cheese win!
Think you've got a massive set of lungs that could call the cheese back from the sacred caves of Gruyere? Here's your chance to prove it.  Sign up for our 2nd 1st Annual Cheese Calling competition and get a chance at history. The Cheese Calling competition will take place at the Grilled Cheese Invitational and […]
Register to win awesome prizes with your best costumes at the 10th Annual Grilled Cheese Invitational. Remember, the weirder, the better.  But this a family show, so keep it clean, kids! GCI Costume Contest!