Cabot Creamery & The GCI!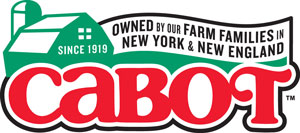 CABOT® CREAMERY IS HEADED WEST
 FOR THE 10TH ANNUAL GRILLED CHEESE INVITATIONAL
Cabot Cheese Is An Exclusive Sponsor Of The National Competition in LA
Cabot, VT (March 1, 2012) – As hearts and minds turn towards spring, the farm family owners of Vermont-based Cabot Creamery Cooperative can't wait for April and the 10th Annual Grilled Cheese Invitational (GCI) to arrive.
Founded in 1919 and widely known as makers of "The World's Best Cheddar," Cabot is proud to announce that it is the exclusive Cheese sponsor of the 2012 Grilled Cheese Invitational which will be held on April 28 at the world famous Rose Bowl in Pasadena, CA.
"We're truly excited to be a part of this amazing and zany event that strives to honor a little bit of the 'chef' in all of us," says Candace Karu, Cabot's Favorite Foodie and Lifestyle Commentator and one of the executive judges for the Grilled Cheese Invitational competition.  "April is National Grilled Cheese Month and being a part of the Grilled Cheese Invitational is a unique opportunity for our farmers to share the Cabot brand with our good friends from the west coast.  Food is all about fun and the GCI takes that fun to a whole new level.  We're proud to be involved with the event and we look forward to sharing our World's Best Cheddar with everyone at the competition.
Indeed, Cabot knows a little bit about competing in the cheese world.  The cooperative has won virtually every major award for best tasting cheddar and has captured numerous "World's Best" cheddar titles in national and international competitions including the World Championship Cheese Contest, World Cheese Awards, US Championship Cheese Contest, International Dairy Deli Bakery Association Show, and the American Cheese Society.  And Cabot also holds the Guinness® World Record for The World's Largest Grilled Cheese Sandwich (Nov. 2000 in Everglades City, FL weighing 320 lbs.) and The World's Largest Mac & Cheese (September 2010 in New Orleans, LA weighing 2,469 lbs).
"Growing up on the east coast, Cabot was my family's 'go to' cheese when we wanted some of 'the good stuff!,' says Tim Walker, Chief Instigator and Founder of the Grilled Cheese Invitational. "Cabot's dedication to communities and their farm families makes their cheese taste event better and I for one am glad they are a part of our 10th year!
While attending the largest grilled cheese contest in America, attendees can visit Cabot's "Cheddar Reception" tent, a 40' x 40' area chock full of delicious Cabot cheese samples and piping hot Grilled Cheese sandwiches featuring some of Cabot's greatest grilled cheese sandwich recipes and lots of Cabot giveaways.
The Grilled Cheese Invitational, which started in 2003 as a bet between Founder Tim Walker and a group of his closest friends, has grown into a national movement dedicated to perfecting the art of grilled cheese.
"This year mark ten years of cutthroat, competitive grilled cheese sandwiches," Walker says. "What started as a friendly wager between friends has grown into a national movement of cheese fiends dedicated to perfecting the art of Grilled Cheese. When we started, the Grilled Cheese was orphaned into the dark world of the 'kids menu' in most restaurants, left to suffer needlessly with fish sticks and chicken nuggets. Now, thanks to our efforts, the Grilled Cheese is taking center stage in the role of America's sandwich!  With four competitive categories, amateur and pro chefs cooking side by side and all sorts of special judges awards, and with Cabot's help, this year will be the best thing to happen to mankind since the invention of sliced cheese!"
ABOUT THE GRILLED CHEESE INVITATIONAL
The Grilled Cheese Invitational (GCI) is the largest, craziest, and most exciting Grilled Cheese cooking contest in the country and is the best thing to happen to sliced cheese since sliced bread! The event was created by Tim Walker in 2003, in an artist loft in Downtown Los Angeles as a competition between friends and since then, has grown into a national movement dedicated to perfecting the art of grilled cheese, with thousands of cheese fiends and regional competitions across the country. For more information, go to: http://www.grilledcheeseinvitational.com
ABOUT CABOT CREAMERY COOPERATIVE
Cabot Creamery Cooperative has been in continuous operation in Vermont since 1919, and we make a full line of cheeses, yogurt, sour cream, cottage cheese, and butter. Best known as makers of "The World's Best Cheddar," Cabot is owned by 1200 dairy farm families located throughout New England and upstate New York. For additional information on Cabot Creamery, visit http://www.cabotcheese.coop